Aggregate Services for Telecom Carriers
Aggregate Services for Providers and Telecom Carriers. Infrastructure, Connection to Traffic Exchange Points, Dedicated Link and more!
Aggregate Services - Eletronet
Colocation
Eletronet makes physical space and the infrastructure of its sites available as a service to you. With Colocation, you bring your equipment and we take care of the environment for its proper functioning, be it indoors or outdoors.

Golden Jumper
Establish a physical interconnection between your equipment (or your service) with third parties such as carriers, Internet Exchange Points – IXP, Internet Service Providers – ISPs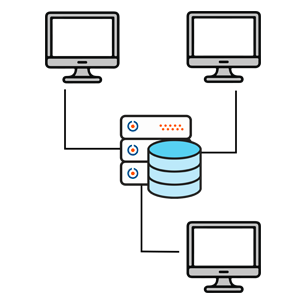 Connection to PTT
Connection to national Traffic Exchange Points-IXPs. With this service, you will have your ASN present at the IXP, and it's even possible to promote a direct connection (bilateral VLAN) to receive exclusive content and exchange traffic privately with all IXP participants, whether they are content providers, carriers, or other internet service providers – ISPs.